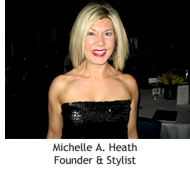 The Stylish Eye is the unique personal style service that helps you discover your eye for style. Our simple method makes great style approachable, affordable and attainable. We give you the tools, tips and tricks to stay current with the latest trends and shop with one eye on your closet and the other on your wallet. Michelle Heath, founder and Stylist at The Stylish Eye, brings her stylish eye to each client. She uses an individual approach that lets you realize your inner style. It's time to dress confidently, shop efficiently and be stylish! Ready to be stylish? Get in touch and we'll hook you up.
Why we exist
Our goal is to help you see style so you can dress confidently, shop efficiently, and be stylish. We help you train your eye to know what looks great on you so you can stay current with the latest trends and feel great when you leave the house.
What we believe
We are grounded in the belief that style is personal. It's not a trend, a label, a brand or a store. It's not buying something you saw in a magazine because it looked great on someone else. It's not Hollywood or InStyle. It's the most visible way to invite people to understand you. It is the ultimate first impression. Let's face it, people see what's on the outside first. What does your outside say about you?
What we do
At The Stylish Eye, we understand that each person is unique. Everyone feels differently about their appearance, their shape, their size, their clothes, their accessories - even the skin they walk in. Our goal is to work with you to define what you need and then help you achieve your goal. Does the thought of a shopping trip make you break into a cold sweat? We hear from alot of people that they hate to shop. When we get to the heart of the matter we usually find out two things - one, they don't really know what's in their closet and, two, they don't know what to buy.

Here's where The Stylish Eye can help. What if your closet was organized so you could see what you have and know what goes together? What if you had a list of exactly what to buy - kind of like a style roadmap - and you could take it with you when you shop? What if you knew some of the latest trends and how to incorporate them in your wardrobe?

Our approach to style is all about making you more efficient so you can save time and money. We also hear from people who've had a life experience that changes how they look or how they dress. Anything from a new baby to a divorce to a new job - they all affect how you dress, what you buy and how you feel. What you wear can be stressful if you don't know where to start.

Sometimes all you need is someone to jump-start the process by getting you organized and helping you define your personal eye for style. Our style solutions take out all the waste and give you the tips, tricks and tools to make your closet work for you and your budget. We get it. We love it. We live it.

We're here to help. Get in touch.